We have previously covered the top 5 software developers in the online casino. The response to that article was fantastic and we felt that our subscribers would also enjoy learning about the top 3 online pokies in New Zealand.
What to look for in a pokies machine
Gone are the days of sitting in the corner of a bar and shaking the hand of the one armed bandit all night. The majority of New Zealanders now prefer to play video slots which are fully digital and offer exciting feature bonus, additional reels and up to 243 pay-lines. This progressing has seen a rise in people enjoying online pokies which allow them to access pokies from any location with a decent internet connection.
When looking for our top 3 online pokies we decided to consider 3 primary factors. We will look at the styling and visual appeal of the game, the bonus features available and the RTP (return to player). These 3 factors are the primary differentiators between a bang average pokie machine and one that you could play for hours.
3 – Starburst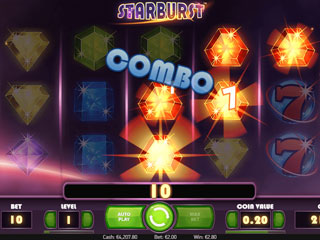 Starburst is an online pokie developed by NetEnt. Starburst changed the online casino industry when it was released back in 2012. It is a 5 reel, 3 row video slot that pays from right to left and left to right. The game can be a little confusing paying in both directions but it also adds to fun and increases your chances of winning.
Starbust is considered a a high frequency, low volatility pokie. This means that it will pay out more frequently than most slots but the winning amounts are not as large as you would see on other pokies like Mega Moolah.
The pokie also claims a RTP of 96% which is excellent value for players looking to enjoy a long run at the casino without committing too much money upfront. It is also one of the reasons that Starburst is the most popular pokie for online casino free spins.
Starburst is packed with a number of exciting features like the "pay both ways" feature discussed earlier and an expanding Starburst Wild symbol that is accompanied by flashing lights and arcade style audio.
The theme of the game is one of high space adventure as you cruise through space with bursts of gems and frequent wins. The overall visual experience is mesmerising which is why it has made it into 3rd place on our list of the best 3 online pokies in New Zealand.
Promotional Video of Starburst
Starburst's Scores
| | |
| --- | --- |
| Visuals | 90% |
| Features | 82% |
| RTP | 96% |
| Overall | 89% |
Where to play Starburst
You can play this game for free online at SkyCity Online Casino by signing up a new account via BestNewZealandCasinos.com – Click here to get SkyCity Free Spins.
2 – Dazzle Me Slot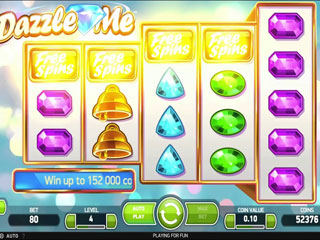 The Dazzle Me pokie comes in at a respectable 2nd place in our list of the top 3 pokies in New Zealand. Dazzle Me is also build by the team over at NetEnt and was deployed in 2015. Dazzle Me is a similar to Starburst in the fact that many of the symbols resemble those in Starburst but that is where the similarity ends.
The visuals on Dazzle Me are fun and playful. The light hearted bright colours are a refreshing change from many of the serious online pokies you will see at other casinos. The reel animation is so refreshing with the unique interface that NetEnt have designed.
Dazzle Me offers 5 unique reels with varying rows and some very unique pokie machine features. The pokie contains exciting bonus features like Dazzling Wild Reels, Free Spins and Linked Reels. The most unique feature of this slot is that the number of rows available across the slots change with the first two reels containing 3 rows, the next two containing 4 rows and the final reel holding 5 rows. This bespoke slot layout allows for some really interesting pay-lines with 76 bet lines available.
Dazzle Me offers players a massive 96.9% payout which leads the list in terms of RTP value. We have never seen a pokie with a better RTP before. It is similar to Starburst in terms of volatility offering a low volatility with smaller more frequent wins.
Dazzle Me offers a great alternative to Starburst for casual pokie players looking for value and prolonged playing sessions. This has also resulted in many casinos in New Zeland offering free spins on Dazzle Me for players that are looking for a change from Starburst.
Promotional Video of Dazzle Me
Dazzle Me Scores
| | |
| --- | --- |
| Visuals | 81% |
| Features | 88% |
| RTP | 96.9% |
| Overall | 91% |
Where to play the Dazzle Me Online
The Dazzle Me demo is available on the official NetEnt website – Play Dazzle Me Pokie Demo or via Free Spins as part of the SkyCity Welcome bonus on Best New Zealand Casinos – Play at SkyCity Online Casino
3 – Vikings Video Slot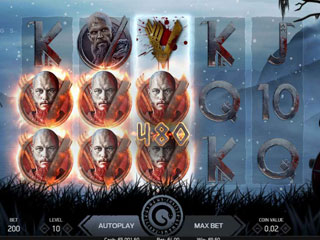 The Vikings video slot is another online pokie brought to us by the creators over at NetEnt. This slot is based on the popular Vikings TV series. This game was only released in 2018 which means it offers extremely high quality graphics and audio that transport you from your life in New Zealand back to early medieval Scandinavia with the legendary Viking chieftain Ragnar Lothbrok.
Vikings has an amazing RTP of 96.05% with a high volatility, a bit like Ragnor himself. This means that the pokie won't payout as often as Starburst but allows you to experience much bigger wins. The fact that you don't win as frequently but win higher amounts builds anticipation with big wins releasing that adrenaline rush we crave.
This pokie is packed with features like Shield Wall, Hotspot, and Raid Spins mode which features free spins and 3 hotspots. Raid Spins mode also boosts the slot morphing it from a 5 reel, 3 row pokie to a massive 7 reel, 5 row pokie with an incredible 78 125 ways to win.
The Vikings video pokie is a truly modern online pokie packed with features, an excellent RTP and probably the most intense visual and audio experience we have ever experienced in any pokie be it online or offline. Taking all these factors into account, Vikings is easily the best online pokie available in New Zealand.
Promotional Video of Vikings
Vikings Slot Scores
| | |
| --- | --- |
| Visuals | 99% |
| Features | 90% |
| RTP | 96.05% |
| Overall | 95% |
Where to play the Vikings Video Slot
You can play the demo version on this game on the official NetEnt website – Click here to play demo of Vikings for free.
Final Thoughts
These are the best 3 online pokies in New Zealand in our opinion. Do you agree with our choices? Have we left out a pokie you believe should be on this list? Maybe you want to know why no Microgaming Pokie managed to make the list. If you want answers to these or any other questions, leave a comment on the article and we will try answer any questions you many have.